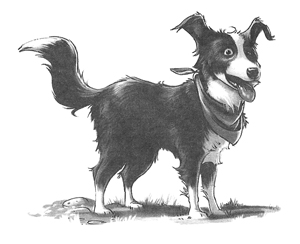 Background
Buster is an original character from The Land of Stories series. He first appears in The Enchantress Returns, ch 1. He is the Bailey family's dog - and turns out to be Sir Lampton in disguise.[1]
Appearance and Personality
"The black-and-white dog was obnoxiously happy and had bright green eyes, one of which was larger than the other. Bob had placed a red bandana around Buster's collar."[2]
Buster is a border collie from the pound, given to Alex and Conner by Dr. Robert Gordon. In chapter 6 of The Enchantress Returns, they find out he is Sir Lampton, bespelled by the Fairy Godmother, in order to keep an eye on them without them worrying.
Quotes
"A flash of light traveled from the tip of her wand and into the dog's mouth. Buster began barking, but the sound slowly morphed into the sound of coughing - human coughing. "Pardon me," the dog said. "My word, it's been a long time since I've had to pronounce anything."[3]
References
↑

TLOS II, ch 6, p 78

↑

TLOS II, ch 1, p30

↑

TLOS II, ch 6, p. 78
Ad blocker interference detected!
Wikia is a free-to-use site that makes money from advertising. We have a modified experience for viewers using ad blockers

Wikia is not accessible if you've made further modifications. Remove the custom ad blocker rule(s) and the page will load as expected.