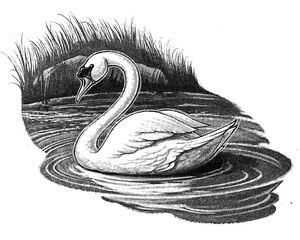 A lake in the
Northern Kingdom
, inhabited by swans and other birds.
Description
Mentioned in The Wishing Spell, ch 15, p. 298. Snow White's palace sits on the edge of it. No further description given.
Trivia
Swan Lake is a fairytale ballet by Tchaicovsky about a group of women turned into swans by an evil sorcerer; their curse is broken by a prince falling in love with one of them, the swan queen.
Ad blocker interference detected!
Wikia is a free-to-use site that makes money from advertising. We have a modified experience for viewers using ad blockers

Wikia is not accessible if you've made further modifications. Remove the custom ad blocker rule(s) and the page will load as expected.