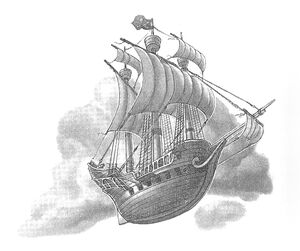 Description
The Jolly Roger is a pirate ship in J.M. Barrie's fictional world Neverland from the Peter Pan stories. It is where Captain Hook and his pirates live. It is usually anchored in Pirates Bay.
The ship is described as following:
"The Jolly Roger was an enourmous ship made of red and black wood and took up the majority of the bay." [1]
The ship has certain magical qualities as it is able to fly.[2]
In Beyond the Kingdoms, Alex, Conner, Mother Goose, Lester, and Red travel into the story and into Neverland in persuit of the Masked Man. The Masked Man wants to recruit villains such as Captain Hook for his army.
When they find the Masked Man, he escapes into a new fictional world through a portal book, with the entire Jolly Roger, ship and crew.
In An Author's Odyssey, Captain Hook and his pirates wreack havoc on the Land of Stories, poisoning Mermaid Bay and attacking the Fairy Kingdom and the Northern Kingdom. (Earlier, in Beyond the Kingdoms, Peter Pan mentions he has seen bottles of poison on Captain Hook's ship).
References
↑

TLOS IV, ch 18, p. 234

↑

TLOS V, ch 1, p. 22